THE UNBREAKABLE SPIRIT
She omits a delicate aura that shimmers during the magic hour, her ineffable transparency left to teeter on the edge. But don't be deceived by this ostensible vulnerability, for at heart she yields the hardest core, an unbreakable spirit that has survived countless harsh seasons. A warrior, a leader of the good souls.
DIMENSIONS: 30" Tall, 48" Wide, 48" Long.
MATERIAL: Oak
A SEA CHANGE
Lost at sea, battered and war torn. Without moral compass he happened upon a small isle, all stitches and scars, anticipating hostility. Yet to great bewilderment, a visceral joy was bequeathed to him from the townsfolk who embraced the outsider with no judgement and the utmost merriment. He was finally found. A sea change was upon him and it rippled through the waves of his journey home. Now upon raising a glass, he no longer cries skol, he calls 'Ommel.'
DIMENSIONS: 30" Tall, 40" Wide, 100" Long.
MATERIAL: Oak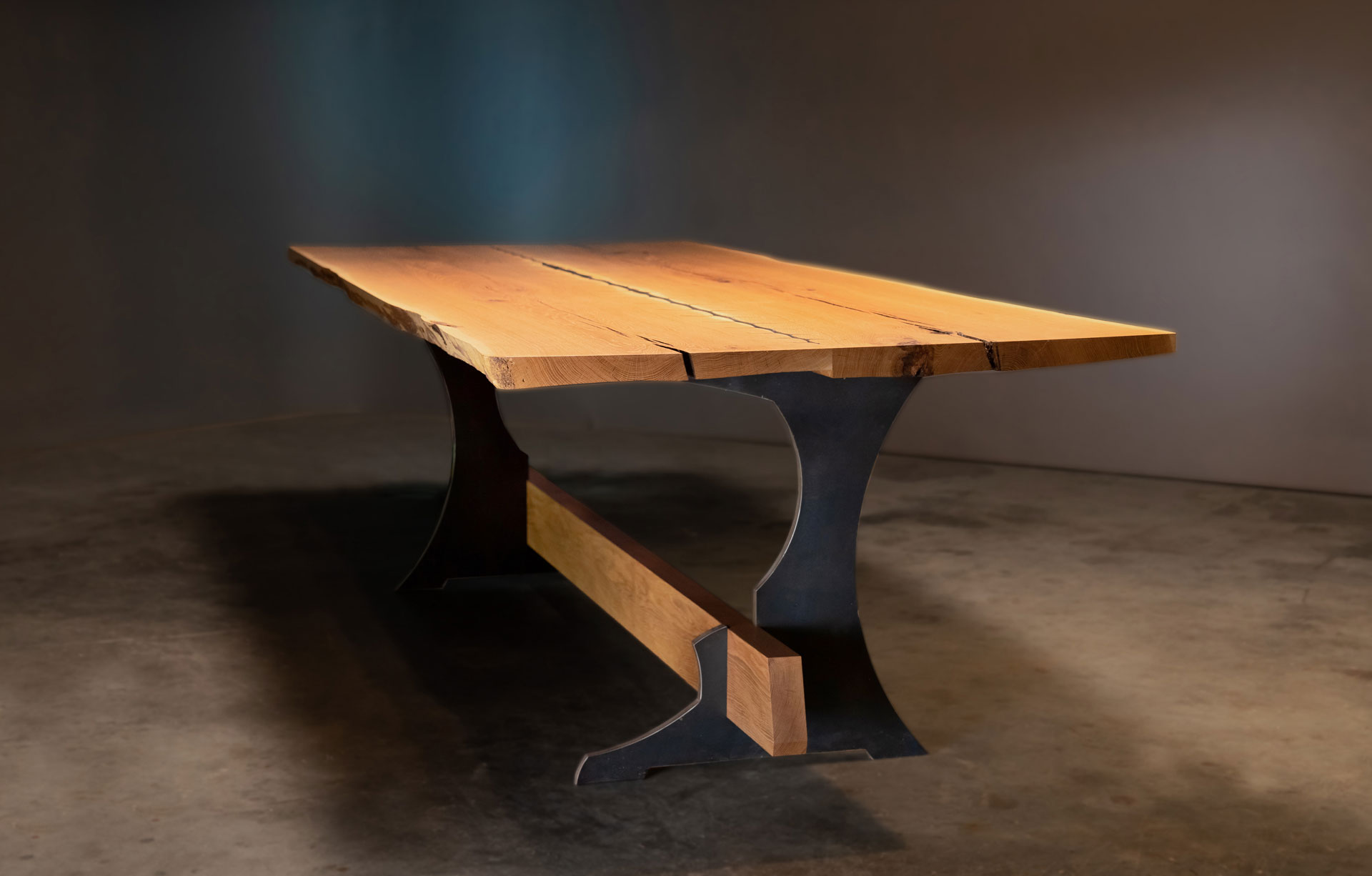 WHAT LIES BEYOND
To the farthest reaches of the space in the room, lies Jupiter. bright enough for it's reflected light to cast shadows. Where orbiting explorers dare to dream what lies beyond. A place for undiscovered friendships to take flight.
DIMENSIONS: 30.5" Tall, 84" Wide, 84" Long.
MATERIAL: Walnut
WHAT DO YOU SEE?
Where a spearhead once lay and wars were waged, Haft's lines whispers tales of sorcery and king's overthrown. Her history tears through the surface, right up to her diasporic edges, revealing a pattern akin to a rorschach test. Each visitation will read differently.
DIMENSIONS: 30.5" Tall, 45" Wide, 98" Long.
MATERIAL: Osage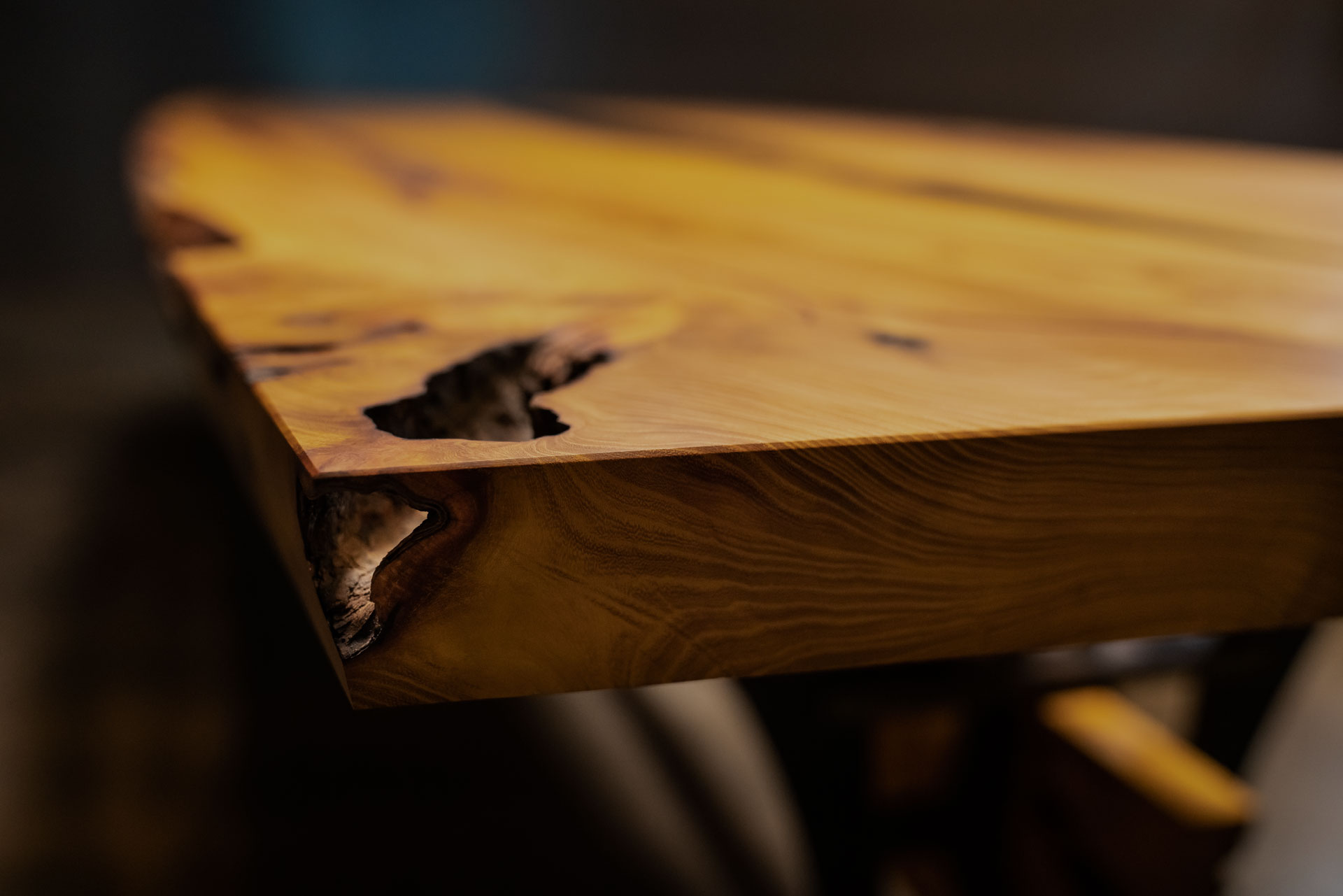 ALL ARE WELCOME HERE
When the fences finally fell, liberating all, remnants of the vacuous tyranny where reshaped and repurposed. Shackles became supports, barriers became bar tops. From the ashes rose Planka. Once a sign of the oppressed, now a symbol of congregation and celebration. All are welcome here.
DIMENSIONS: 30" Tall, 12" Wide, 76" Long.
MATERIAL: Spalted Hackberry
DISCOVER SOMETHING PROFOUND
His exposed depth, from some previous excavation reveals just a taste of his inner character. Many have meditated around him, chanting Dyb, hungry for him to reveal his secrets, lost in his abyss, only to discover something deep and profound within themselves.
DIMENSIONS: 20" Tall, 32" Wide, 32" Long.
MATERIAL: Black Walnut
WHAT WILL BE WILL BE
Veikryss, nature's manifestation of life's endless junctions. A place to sit and procrastinate over our most probable path. The pause as we reach that quantum moment. Longing to catch a glimpse of our predestination before branching off. What will be will be.
DIMENSIONS: 30" Tall, 42" Wide, 89" Long.
MATERIAL: Oak
PLOT A COURSE
A bridge of land stretches out across a vast body of open water. Polynya summons the explorer within those curious enough to navigate across her translucent fringes and plot a course for their next great expedition.
DIMENSIONS: 15.5" Tall, 16" Wide, 64" Long.
MATERIAL: Black Walnut
THE EYE OF THE STORM
Forged from the eye of the storm, Orkan bares a birthmark that conjures a picture of her violent heritage. But she wears it unashamedly with uncompromising strength. She is the balanced centre that brings stability in torrid times.
DIMENSIONS: 20" Tall, 28" Wide, 28" Long.
MATERIAL: Oak
AN ESCAPE
Catching the vibe of a golden shoreline, every grain glistening in the sunlight. Coast evokes a tranquil escape from the humdrum of the city. A private island where one can riff off a wave of inspiration.
DIMENSIONS: 18" Tall, 27" Wide, 35" Long.
MATERIAL: Black Walnut
BEYOND THE MARGINS
Ismane, a solid age old road encompassed by an infinite swell of light and air. It's like sitting at the edge of precipice, breathing in boundless possibilities. Dare to go beyond the margins.
DIMENSIONS: 20" Tall, 35" Wide, 35" Long.
MATERIAL: Spalted Hackberry
THE BACKBONE OF THE WORLD
In the years that followed the Titanomachy, a monolith of oak was severed from the sacred tree and carried upon the shoulders of giants across barren lands. For centuries they traversed continent upon continent, bearing it's weight as it gathered strange markings, bequeathed to it by the ravages of time itself. Soothsayers believe it to be the backbone of the world.
DIMENSIONS: 17" Tall, 22" Wide, 46" Long.
MATERIAL: Sycamore
REACH BEYOND THE CANOPY
Born within an hour of each other, The Stupebretts grew side by side, testing and challenging each others ability to reach beyond the canopy. Although not identical, their personalities and thirst for knowledge are indistinguishable. These sporadic springboards will have you piking into a somersault for organic idea generation and intellectual debate. Dive in.
DIMENSIONS: 17.5" Tall, 14.5" Wide, 48" Long.
MATERIAL: Black Walnut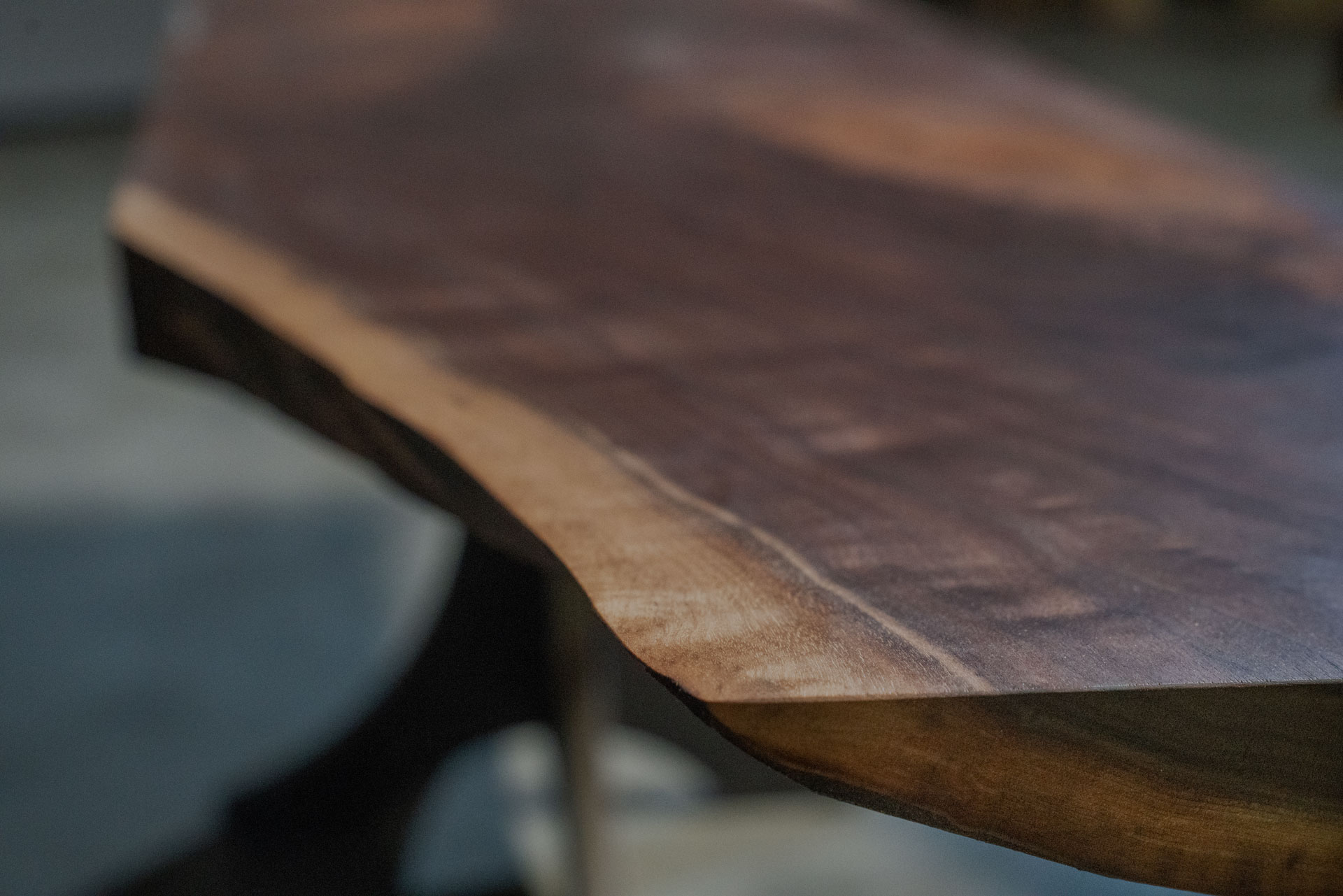 THE SURVIVOR
Tyfon was salvaged from a wreckage somewhere between 180° and 100°E in the Northern Hemisphere. Her scars, delicately bridged by ornate markings form the ancient tribe that discovered her. Her survival is celebrated, held aloft by the talons of a griffin.
DIMENSIONS: 20" Tall, 28" Wide, 28" Long.
MATERIAL: Oak
THE MILK OF KINDNESS
The offspring of Heartwood, Kalv has been nurtured with the milk of kindness. His noble silhouette commands attention, inheriting all the strength of heart his mother had to offer. To be seated at Kalv is to honor creation itself.
DIMENSIONS: 20" Tall, 31" Wide, 36" Long.
MATERIAL: Oak