THE ETERISK Collection
EXPLORING OF THE ETHEREAL QUALITIES OF NATURE'S GEOMETRY
'I set out with each of these pieces to capture the ethereal qualities of nature's geometry and how it's beauty forges universal symbolism.'
VENTURE FORTH THROUGH FRACTAL PATTERNS
A golden light emanates from it's core as seed unfurls and blooms The geometry of nature is revealed and it Invites all that gaze to venture forth through fractal patterns, harmonic ratios, and sacred cycles. A profound sense of subatomic interconnection awaits.
MATERIAL: Copper
A PRECIOUS ARCH OF SYMBOLISM
Enamoured by it's beauty, though she ought not to have done, she cut a petal from the Flower of Life and tucked it away in her breast pocket, as close to her heart as she could get it. With this small arch of symbolism she anticipated a profound understanding of her place in the universe. But the further away from the flower she ventured, the more the petal lost it's glow and it's strange ability to impart knowledge. To try and preserve it's fading delicate form, she encased it in copper, it was then the petal faintly spoke, 'We are now but two lost souls, and understanding is stronger not in part but as a whole.'
MATERIAL: Copper
Plot a course for 1.61803398875. There one will discover meaning of divine proportions.
MATERIAL: Copper
The divine embodiment of the blood moon, setting the night sky ablaze with a tantalizing rapture that seizes all who gaze upon her face, transfixed in a euphoric daze.
MATERIAL: Copper
PARALLEL UNIVERSES KISS AND CONVERGE
The fundamental forms of space and time reflected, one in shadow, one in light but otherwise identical in every sense. Parallel universes kiss and converge, As you arch into it's six fold symmetry, don't be surprised if you happen upon your other self.
MATERIAL: Copper
THERE'S BEAUTY IN THE CHAOS
From a distance a pattern forms, a mosaic of intersecting paths, each splintering out to reach it's neighbor. Randomly shattered yet somehow purposefully compartmentalised. There's beauty in the chaos of the natural order of things.
MATERIAL: Copper
DISCERNING BOUNDLESS WISDOM
See and be seen. Those who have gazed upon the hypnotic patterns of the sacred iris claim to have discerned boundless wisdom, revealing their true selves and ultimate purpose. But desist from peering in for too long, for you may loose sight of your intentions and become eternally lost in the beauty of it's gaze.
MATERIAL: Copper
A HARMONIOUS ELEMENTAL FLOW
It's perfect form and proportion emits a harmonious elemental flow. Interpreted infinitely throughout the ages from a deeply spiritual aid for meditation to a visual expression of the connections of life that run through all sentient beings.
MATERIAL: Copper
A GESTURE TO THE GODESS VENUS
Within one divided by phi, a flower blossoms. A symbolic gesture to the Godess Venus.
MATERIAL: Copper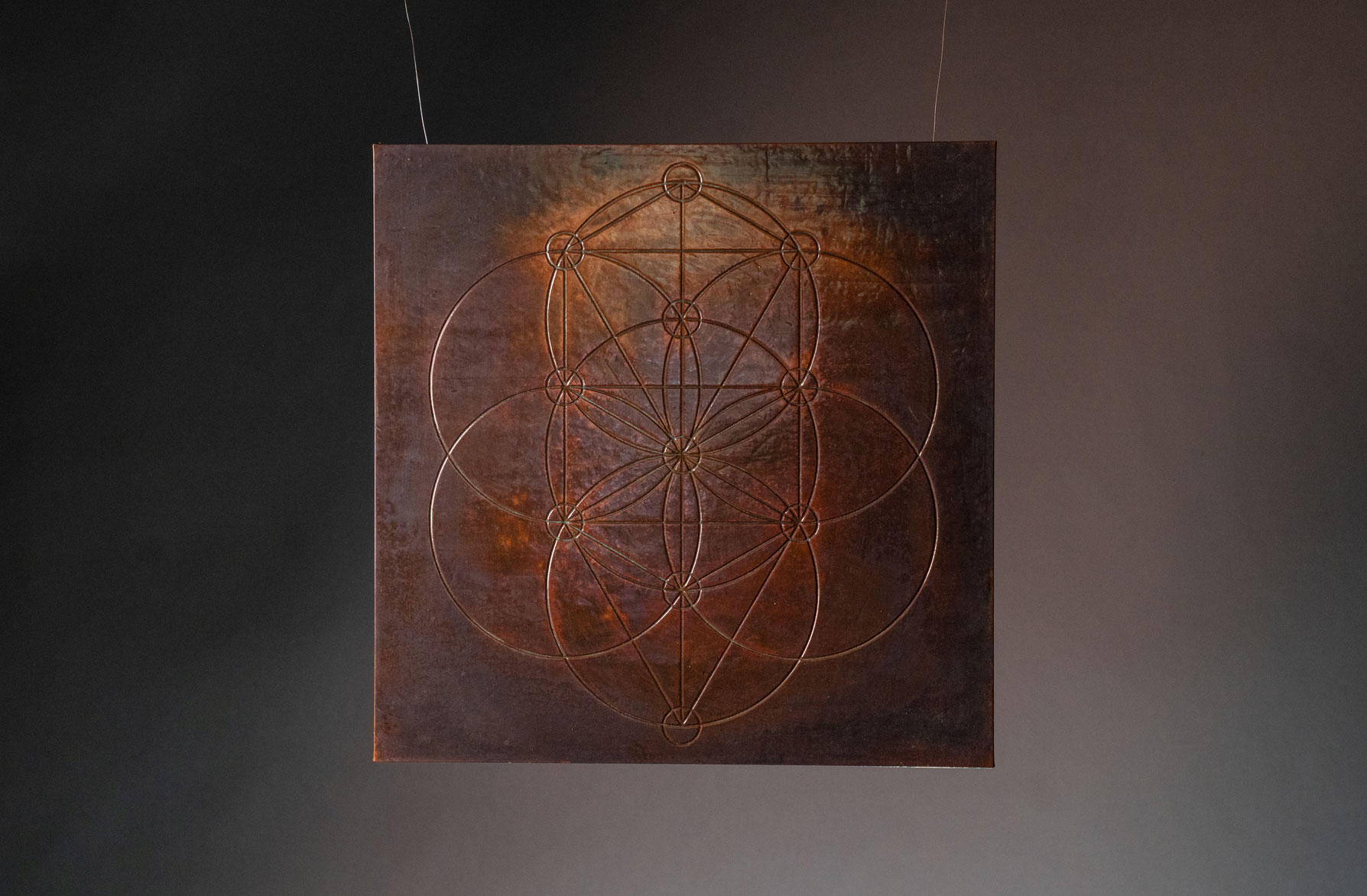 Derived from the Flower of Life, Tree geometric form, throughout the spiritual cosmos, depicts a map of creation and is said to act as a template from which all life springs. God is in the details.
MATERIAL: Copper
AN INTRINSIC NETWORK OF INTERSECTIONS
Thought to have been recovered from the loot of a pirate refuge in the Caribbean, Tortuga boasts an intrinsic network of intersecting lines inspired by the natural form of the lost isle's 400 year old giant turtles. For those that can translate it's pattern, a myriad of treasure awaits.
MATERIAL: Copper
ENTER THE SYMBOLIC UNIVERSE
Focus your attention. Open a symbolic doorway into the mind that leads to the gate of the universe and at the centre you'll find a sacred space that emits radial balance.
MATERIAL: Copper
THE KEY TO UNDERSTANDING NATURE'S LANGUAGE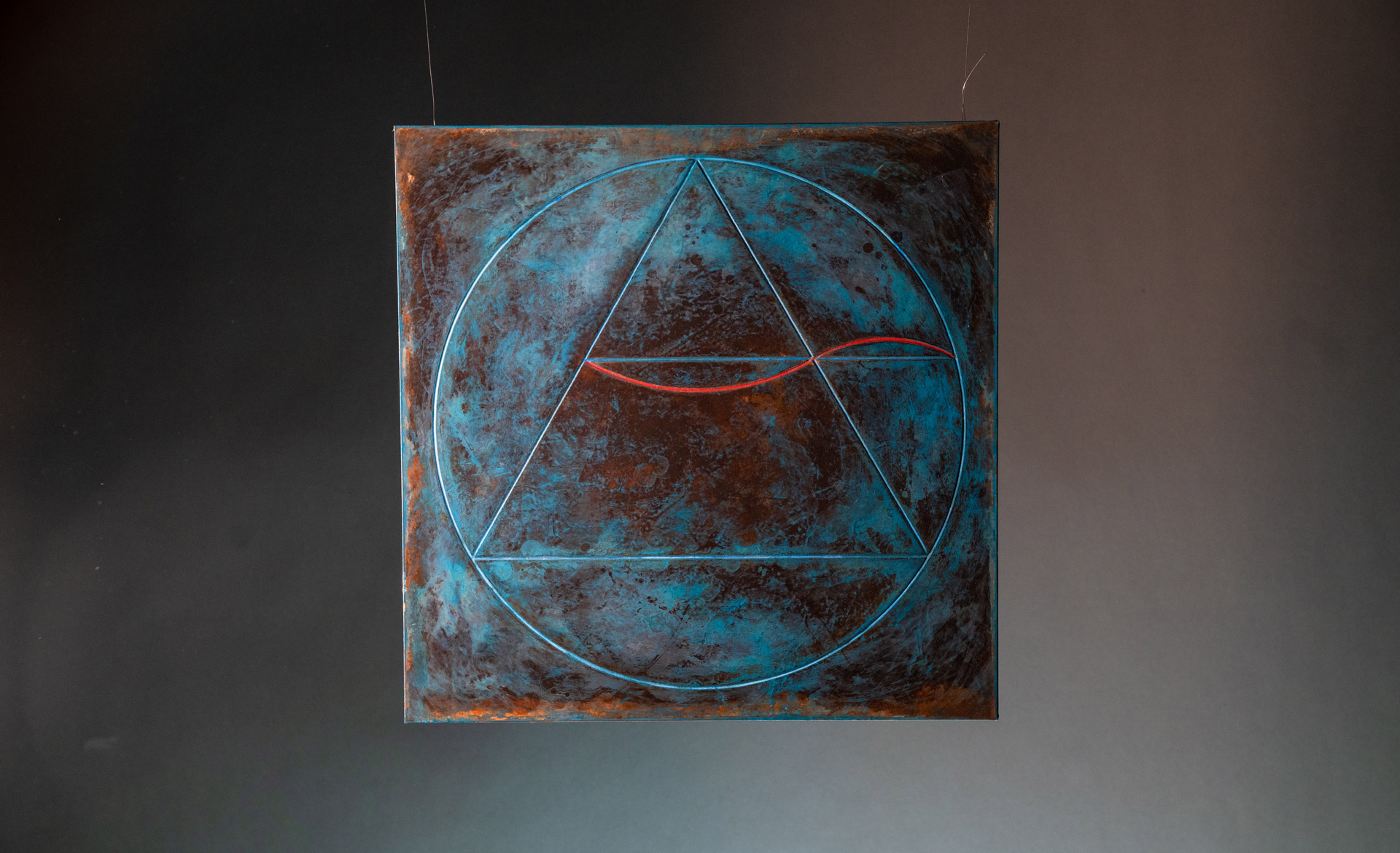 The key to understanding nature's language, from the sphere to the point to the square root of two. a profound principle of pattern that forms a symbolic path to our ancestors, and a link to each new generation. An infinite lineage preserving the continuity of existence.
MATERIAL: Copper